A gripping chronicle of skydivers, BASE jumpers, and the latest aerial pioneers on the edge.
Human flight is one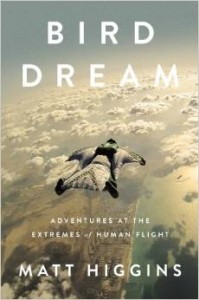 of the last great challenges on Earth. Not like how the Wright brothers flew, but how we fly in our dreams.This is the goal of the Wingsuit Landing Project: to soar through the sky at speeds up to 100 mph, and to land without the aid of a parachute. At least half a dozen groups around the globe have a similar goal in mind, from France, South Africa, New Zealand, Russia, and Britain to the United States. The leading candidate is thirty-seven-year-old adrenaline-seeking Jeb Corliss, a Southern Californian who seeks to emulate a mode of flight more like a flying squirrel than bird or plane. The possibilities of the wingsuit concept have captured the human imagination— from the mythical Icarus to beloved character Wile E. Coyote—but the results have usually been disastrous. New designs developed over the past two decades have made the wingsuit slightly safer and more predictable, but immense dangers s
till remain.
Journalist Matt Higgins gained intimate access to wingsuit pioneer Corliss; a brash, publicity-hungry stuntman from a wealthy LA family, who, after years of BASE jumping and skydiving, set out to be the first person to be dropped 2,400 feet and land solely with the aid of a wingsuit. But somewhere in the UK, a forty-two-year-old man of average means was plotting to beat Corliss at his own $3 million game. His name was Gary Connery. Along with an international group of wingsuit devotees—including a Finnish magician, a parachute tester from Brazil, an Australian computer programmer, a gruff former Hollywood stuntman-turned aeronautical engineer, a French skydiving champion, and a South African costume designer—Corliss and Connery race to leap into the unknown as the world's foremost wingsuit pilots. This race will nearly cost one of the competitors his life.
Bird Dream is a riveting, adrenaline-fueled narrative about a group of unforgettable characters who risk everything to achieve man's age-old dream of flying. Chronicling everything from stunt parachuting in 1960s Hollywood to BASE jumping off landmark buildings in Manhattan to wingsuit flying in South America to the genetics thought to be responsible for risk-taking, Bird Dream takes readers to the cutting edge of this new frontier—as well as the strange science and fearless history that have led us to this remarkable point in the human experience.